IMPORTANT: COVID-19 Safety Update
Masks are required in studio.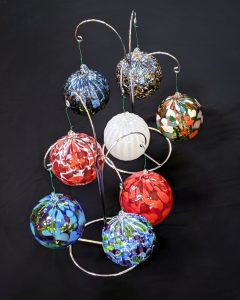 Ornament Workshop
Learn how to sculpt your own sparkling glass ornament from molten glass in this fast-paced Workshop.  A bite-size glass making experience, this Workshop is perfect for those who want to try a small glass endeavor before signing up for more involved classes. These workshops are 1 hour long and require pre-registration.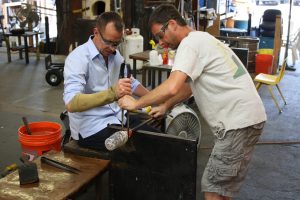 6 HOUR INTENSIVE BEGINNER GLASS BLOWING
Join us for an all day glass blowing experience.  This 6 hour class is an intensive introduction to the art of glass blowing.  Ideal for those who are interested in learning about the glass making process and thrive in a learning environment that emphasizes hands-on, learn-by-doing teaching style.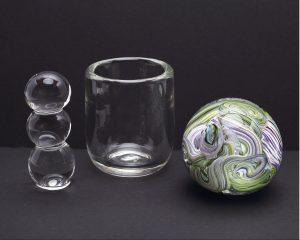 BEGINNER GLASS BLOWING
A 3 hour long hands on learning glass blowing for beginners.  Starting in Feb 2023 this class and the continuing class will be discontinued and rolled into one long 6 hour class.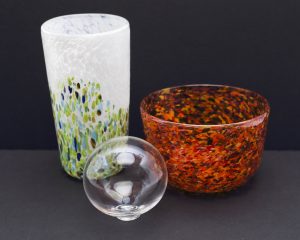 CONTINUING GLASS BLOWING
A continuation of the Beginner Glass Blowing, this class allows students to practice what they learned while gaining further experience in the fundamentals of glass.  Starting in Feb 2023 our beginning and continuing classes will be discontinued and rolled into one long 6 hour class.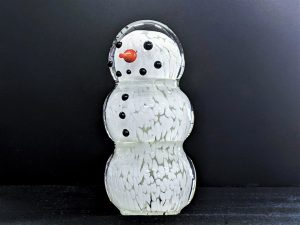 Snowman Workshop
Learn how to sculpt your own happy little snowman from molten glass by using various tools and techniques. Note: This does not involve adding an air bubble, and is therefore considered glass sculpting.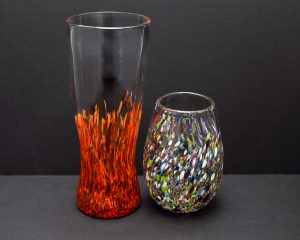 BEER or WINE GLASS
Learn the basic glass blowing skills to create your own colorful pint glass or stemless wine glass.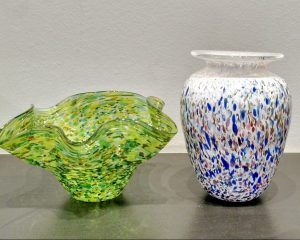 FLOWER VASE or FLOPPY BOWL
Learn the basic skills for making a beautiful, functional, one-of-a-kind ruffled "floppy" bowl or traditional flower vase.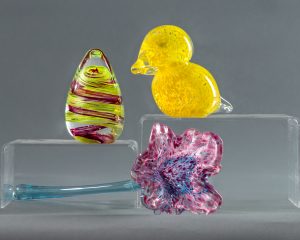 SEASONAL WORKSHOP
This fast-paced workshop gives the experience of being a glass artist. Choose your own holiday-themed solid glass shape to create in this popular seasonal workshop: A happy little heart, a colorful swirled egg, a flower in full bloom, or a sweet little birdie.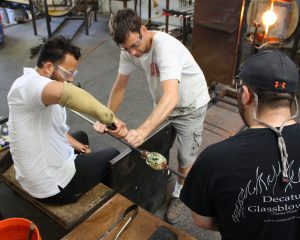 PRIVATE PARTIES
The best way to enjoy glass blowing is to rent out the whole studio with your friends! Private parties are surprisingly affordable, and unsurprisingly LOTS of fun. Great for office parties and team building retreats. See more info here.
PRIVATE LESSONS
Did you know we offer private, personalized, one-on-one glass blowing lessons? Email us at [email protected] or call (510) 778-1548 for more details.
Please Read Before Registering
Our studio is located in Richmond, California.
All classes are for ages 12 and older. No exceptions.  All minors must be accompanied by an adult.
Lot and street parking is available.
Closed-toe shoes are required. Anyone in open-toed shoes will have to reschedule. Please wear cotton or natural fiber clothing (like jeans + t-shirt). Long pants are required for participants under the age of 18 (no shorts).
Your glass project needs to cool at least overnight. Please pick up your project within 30 days.
Classes are held with a 3-student minimum and a 6-student max. (However, we can host private parties for groups of up to 50. If you are interested in a private party, contact us!)
ABSOLUTELY NO ALCOHOL should be consumed before class. If we detect alcohol consumption, we reserve the right to ask students to leave and reschedule for your and others' safety.
Please be aware of our 30-day refund policy for purchased classes. Refunds will only be honored within 30 days of purchase, and only up to 2 days within the class date. (This does not apply to Groupon vouchers. Contact Groupon for their policy.)
Students who cancel/reschedule their reservation within 2 days of the class, miss their appointment, or would like to use an expired Groupon voucher, will be asked to pay a $40 fee/person and are ineligible for a refund. (If you paid directly, you will receive full credit for another class. If you had a Groupon voucher, please contact them for their refund policy.)